I just finished the book. It is a short, but very powerful book. I am still digesting, and will probably continue for many days, weeks, months, and hopefully, years to come.
T. Bill
I had a great time to read your book. Slowly, as suggested, and fully enjoyed it. I was fascinated by many aspects: the content which is challenging, provocative and terribly stimulating, the richness of facts, quotes, comparisons which make your issues and messages so real and impressive, your style, which may not always be easy reading, but I like it a lot: short, to the point, surprising, intellectually demanding. What more can I say but: I have to read it again (and again) to still better understand! F. Sauerländer
I thoroughly enjoyed it. I'm not sure I agree with all of your points, but the general principle is absolutely right: we have not yet come to terms with having too much. I've actually lent it to my brother – he tells me he is suffering 'burn out' in his high stress and high pay job – I recommended your book by way of remedy. M. Lewis
I am touched, moved and inspired by your words. Your thoughts serve as important validation for the urges I am feeling to follow my heart and not my wallet. It is very scary, but equally liberating. C. Norton
I have just finished reading another 'must-read' book. Ulrich's book, I believe, comes from – or from very close to – a sentinel experience. Certainly I feel 'frames shifting' in my mind as a result of reading his book ... Ulrich's book gives context, meaning, 'colour' and detail to the preferred 'New Sustainability Paradigm'. But Ulrich's book is different; it is essentially a personal intellectual journey recounted in conversational style, making it a powerful invitation to envision this desirable future with its liberating changes and daunting challenges. E. Heij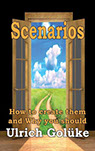 Currently unavailable. Send an e-mail to post@blue-way.net if you want to be notified when it will be available again.
Ulrich Golüke is impressed when working with young people. So he had them in mind when writing this book. Right in the beginning of it, he makes some very valuable statements about scenario planning. Despite the long history of scenario planning, it is still a complex instrument and difficult to use for many organizations. Here comes Golüke's book, telling you step by step how this methods works from a practitioners' point of view.
I have found it very interesting to take a look in Golüke's kitchen and see how he does the cooking job in his projects. First of all, I am very impressed, and perhaps a bit envious, about the intensity of the projects and his way of working. Thirty or more interviews, word by word transcriptions, multiple day workshops in each phase. Yes this is a very thorough method, almost the ideal world of scenario planning. But also for more condensed projects with time and budget restrictions, there are lessons here. Golüke shows how to involve a group in finding meaning, the signal if you like, in a plethora of data from interviews and group sessions. He explains how to move the process through the subsequent stages and keeping everybody on board. His description of the final stage of considering strategic responses in the light of the scenarios is very detailed and useful. Freija van Duijne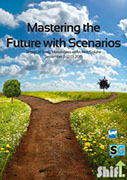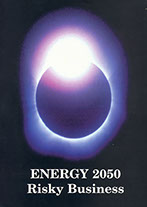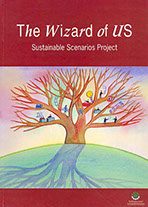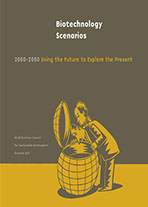 Forecasting turning points in shipping freight rates: lessons from 30 years of practical effort
(with J Randers)
We argue that it is possible to explain much of the history of the world's shipping markets since 1950 as the interaction of two balancing feedback loops: a capacity adjustment loop which creates a roughly 20-year wave, and a capacity utilization adjustment loop which generates a roughly 4-
year cycle. We show how this insight has been used rather successfully since the early 1980s for practical forecasting of turning points in freight rates and the "sentiment" in the shipping market 1–4 years ahead of time. The basic mechanisms in the shipping system create a strong "deterministic backbone" which is visible through the exogenous noise, and hence predictable with useful precision. Our experience leads to a number of questions concerning system dynamics best practice for future research. Syst. Dyn. Rev. 23, 253–284, (2007) DOI: 10.1002/sdr.376